Perfectly sweet and lightly tart this Blueberry Lemon Crisp with Almond Crumb Topping is a quick wholesome dessert that makes the most of berry season!
Freshly picked blueberries with lemon, oats, almonds and coconut make for a quick gluten free dessert that's wholesome enough, you can even call it breakfast…. if it hangs around long enough!
Blueberry Season
An entire area of my tiny yard is dedicated to berries. With strawberries, raspberries, blueberries and blackberries I have an abundance of berries all spring to fall. The blueberry bushes were planted by the woman who sold us our house over 12 years ago. They were little baby bushes then but I remember watching Chayce, newly 2 years old, waddling around baby hands full of berries. Neither of them are babies any longer and just as teenagerdom is taking over my life, the bushes are taking over the side of my house.
The upside to the madness is that I get to harvest blueberries for 3 weeks through the end of August into September. Having so many berries ripe for the picking is super convenient when a sweet craving hits or when last minute guests stop by. My best friend and her family 'camped' at our house over labor day weekend and one night her and I we were having a strong hankering for something sweet. Searching the cabinets we came up with this gluten free Blueberry Lemon Crisp with Almond Crumb Topping – something that will please everyone – adult or child, gluten free or gluten friendly!
A quick mix of blueberries and lemon topped with a hodge podge of all the delicious things I could find in the kitchen made for a quick but super tasty dessert that was gone within 20 minutes of taking it out of the oven. Seriously, I hadn't even finished the dishes to turn around and find a kitchen full of teenagers with forks in hand. I don't know who told them that I had blueberry crisp to share but once the word got out, it spread. Those darn teenagers are sly, hungry beasts.
Ingredients
Lemon Blueberry Filling
4

cups

blueberries

washed and dried

1/4

cup

cornstarch

1/4

cup

granulated sugar

1/2

teaspoon

salt

1

teaspoon

lemon juice
Almond Crumb Topping
1/2

cup

oats

1/2

cup

roasted almonds

chopped

1/4

cup +2 tablespoons

unsalted butter

softened

1/4

cup

unsweetend flaked coconut

1

teaspoon

lemon zest

1/4

cup

light brown sugar
Instructions
Preheat oven to 350 degrees. Zest and juice lemon. and prepare a 9x9 baking dish.

In a large bowl, gently toss filling ingredients until berries are coated.

In a medium bowl, work topping ingredients together with your fingertips until the butter is evenly distributed making for a crumbly dough that stays together when squeezed.

Pour filling into baking dish and evenly scatter almond crumb topping to cover. Dot with remaining 2 tablespoons butter and bake uncovered until lightly browned and bubbly.

Remove from oven and let sit 5 minutes. Serve over icecream or topped with yogurt.
Notes
Frozen berries can be substituted. Defrost and drain before using or use frozen by doubling the cornstarch to 1/2 cup and increasing the cooking time by 15-20 minutes.
Nutrition
Calories:
275
kcal
|
Carbohydrates:
33
g
|
Protein:
3
g
|
Fat:
15
g
|
Saturated Fat:
7
g
|
Cholesterol:
23
mg
|
Sodium:
151
mg
|
Potassium:
161
mg
|
Fiber:
3
g
|
Sugar:
20
g
|
Vitamin A:
315
IU
|
Vitamin C:
7.8
mg
|
Calcium:
39
mg
|
Iron:
0.9
mg
Can't really blame them though, this stuff is good! And I'm just happy to a have a few more crisps worth of berries in the jungle waiting to be picked.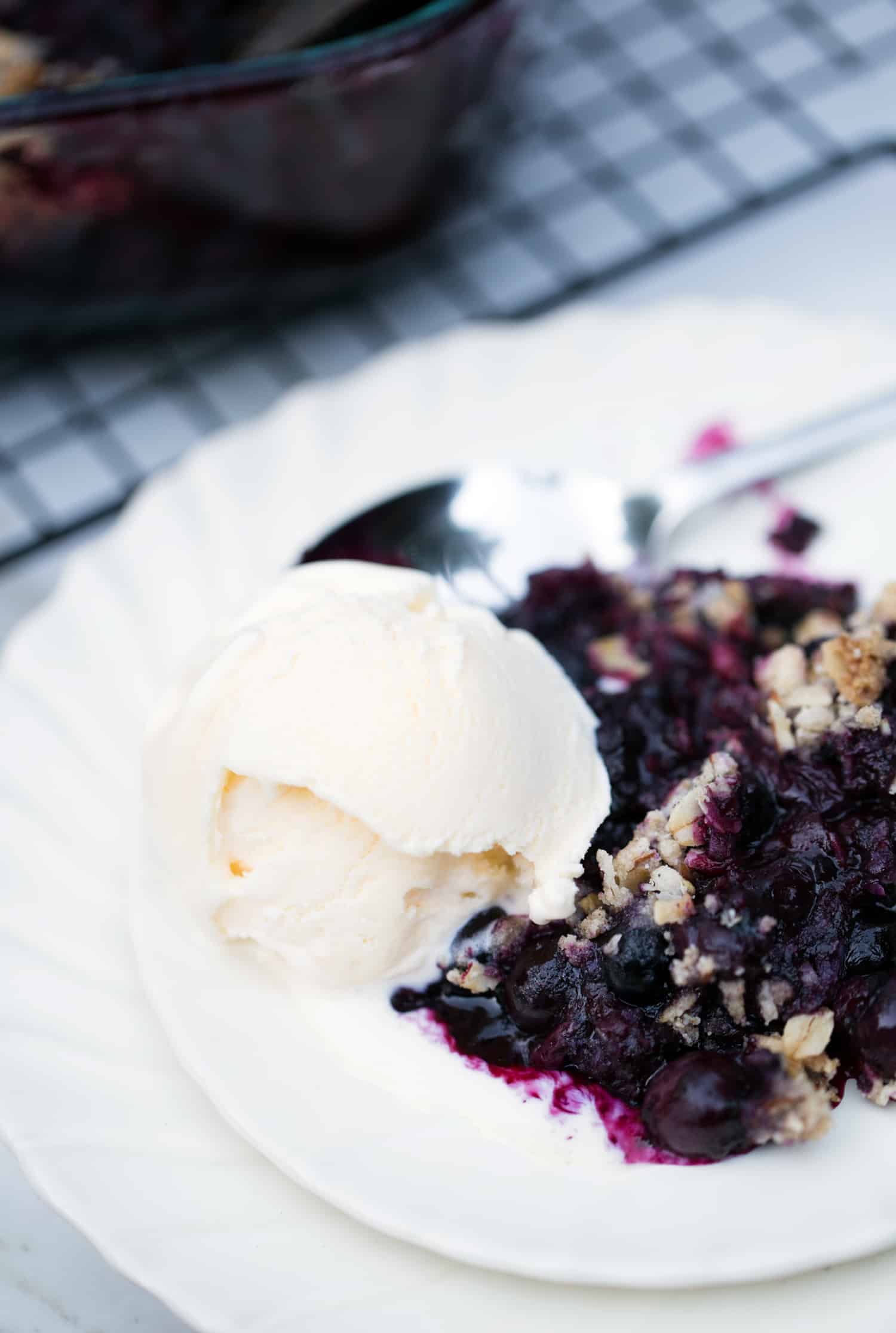 With so many delicious things made with fresh berries, it's no wonder that summer is my favorite food season.
Pies, tarts, crisps, crumbles and more like Blackberry Mojito Cobbler, Blackberry Infused Earl Grey Tea, Strawberry White Wine Spritzer, Strawberry Shortcake, Strawberry Almond Milk Ice Cream, Raspberry Kale Salad, and Red White and Blue tarts and salad.
What's your favorite berry season recipe? Share in the comments below!
Pin for later ?