This post is sponsored by Swanson®. All thoughts and opinions are my own.
With the stock, protein, starch and toppings all offered separately this DIY Chicken Tortilla Soup was made for serving a crowd!
Whether you're looking for something to make for a large group or for the kids tonight, even toddlers and picky eaters can create something they'll love with this recipe!
Easy DIY style dinners
Start with Swanson® Chicken Broth and using my easy 5 step soup method you can serve up all sorts of DIY style meals that keep even the pickiest eaters happy! Or simply make a big batch and meal prep for yourself.
With soup base, proteins, vegetables and toppings served separately there's no wrong way to do it. Plus when you only offer wholesome nutritious components you can rest assured that everyone is getting the vitamins and minerals they need – regardless of how they mix it up!
While I chose to focus on Chicken Tortilla Soup today, you can enjoy a variety of different comforting, family favorite recipes using this cooking style and method. Pho, chicken noodle, wonton, thai coconut, and more!
Whichever recipe you try, be sure to start with America's #1 Broth that's been trusted for over 70 years: Swanson® Chicken Broth.
5 Step Soup Method
Once you know this easy method that breaks the steps, and ingredients, down into 5 simple steps you'll be making all sorts of different creations with Swanson Chicken Broth. Some of my favorites are split pea, black bean sausage and kale soup, and vegetable soup.
Protein – Brown protein of your choice and set aside, leaving any rendered fat or browned bits behind. Ground meat, sausages, shellfish, bacon, chicken, pork, beef, meatballs, wontons, whatever!
Aromatics – Add aromatics to warm and release flavor. Everything in the onion family (garlic, scallions, leeks, shallots, etc) and fresh and dried herbs and spices like ginger and thyme. Also to build more flavor add finely chopped vegetables like carrot, celery and bell peppers.
Liquids – Pour liquids in to release any flavor on the pan and create the soup base. Chicken, beef or vegetable stock, wine, coconut milk, beer, etc
Filler – add the vegetables and starches that add substance to your soup according to cooking time. Then stir protein back in to finish. Beans, rice, lentils, noodles, peas, corn, spinach, carrots, celery, etc
Garnish – Top however you desire and serve! Fresh herbs, fresh or crispy fried onions, hot sauce, sour cream, lemon and limes, etc
Customize it!
Save time with precooked proteins like shredded rotisserie chicken, smoked salmon, deli meat, smoked sausages, etc.
For thicker chowders and stews add a bit of flour with the aromatics before pouring in the liquids
To make vegetable soup skip the protein all together and use butter or other fat instead in step one.
To serve DIY style for your family or for a crowd use the directions below to customize the method.
How to Make Chicken Tortilla Soup with the 5 Step Soup Method
Protein – chicken breasts
Aromatics – onions, garlic, chili powder and cumin
Liquids – Swanson Chicken Broth and tomato sauce. note: authentic chicken tortilla soup gets rich flavor and color from a heavy amount of chili powder and spices. This version relies on both high quality broth and tomato puree or tomato sauce for a similar result in much less time.
Filler – add browned chicken breasts back to broth and simmer until cooked through, then remove and shred when cool. Serve the shredded chicken on the side. And offer only raw vegetables and like shredded lettuce, avocado, radishes, diced tomatoes and scallions. And serve them on the side with the corn tortilla strips. Cooked rice and/or canned beans would also be great.
Garnish – cilantro, lime, and scallions served separately.
DIY Style Chicken Tortilla Soup Recipe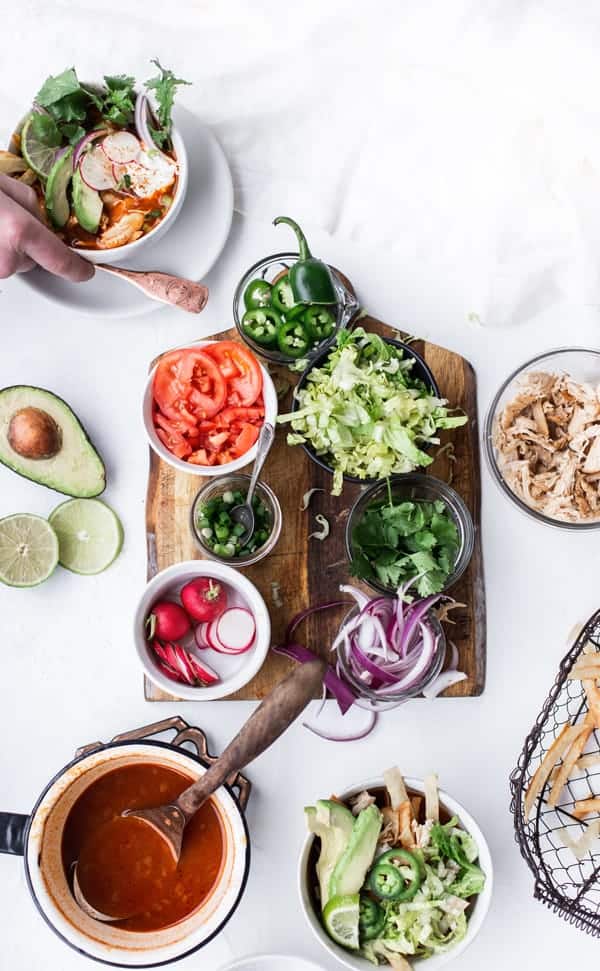 Ingredients
2

pounds

boneless skinless chicken breast halves

4-6 breast pieces

3

tablespoons

canola oil

divided into 1 T and 2 T portions

1

medium

white onion

chopped

4

large

garlic cloves

minced

3

tablespoons

mild chili powder

2

teaspoons

ground cumin

14

ounces

canned tomato sauce

about 1 ½ cups

8

cups

Swanson® Chicken Broth

2 32 ounce containers

1

small

lime

juiced

5

cups

tortilla strips
Optional:
Shredded lettuce

avocado

radish

cilantro

diced tomatoes

red onions

scallions
Instructions
In a large saucepan or dutch oven over medium-high heat, add 1 tablespoon oil and heat until hot and shimmering.

Add chicken breasts and cook until browned, about 2 minutes per side. Remove chicken and reduce heat to medium.

Add remaining 2 tablespoons oil, onion, garlic, chili powder and cumin. Cook until soft, about 3 minutes.

Add tomato puree and cook while stirring, about 1 minute, being careful not to burn. Stir in chicken broth and add chicken breasts back to the liquid along with any accumulated juices. Bring to a simmer and cook until chicken reaches 165 degrees Fahrenheit. Remove chicken all allow to cool, then shred with two forks or cut into slices.

Add the juice of 1 lime to the broth and season to taste with salt and pepper. Then serve broth with chicken and tortilla strips (and any garnishes) on the side.
Nutrition
Calories:
320
kcal
|
Carbohydrates:
19
g
|
Protein:
30
g
|
Fat:
14
g
|
Saturated Fat:
1
g
|
Cholesterol:
72
mg
|
Sodium:
575
mg
|
Potassium:
888
mg
|
Fiber:
2
g
|
Sugar:
3
g
|
Vitamin A:
1145
IU
|
Vitamin C:
8.7
mg
|
Calcium:
45
mg
|
Iron:
2.4
mg
Start with Swanson and make it yours! And if you do, please come back and let me know what you created. I love seeing how you're using this 5 step soup method to make memorable recipes for your family.
enjoy!