This shop has been compensated by Collective Bias, Inc. and its advertiser. All opinions are mine alone. #SamsungTargetTech #CollectiveBias
Craft memorable family traditions while checking things off your to-do list by throwing a kids Holiday Wish List Party!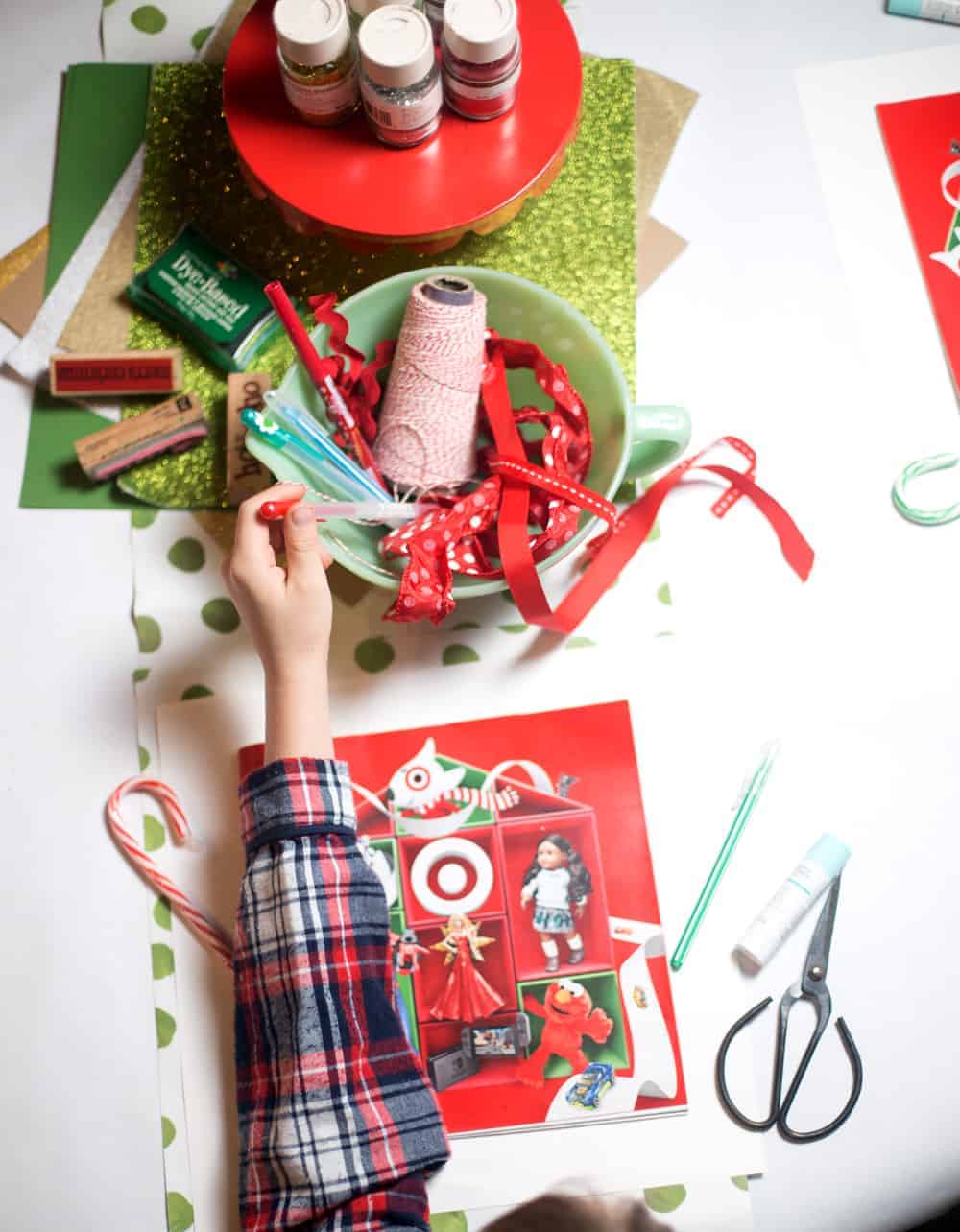 Plan and organize your busy holiday season with a fun night of crafting, cocoa and cookies with your family! Kick start the holidays, get in the gifting mood and load up on gift ideas with this festive family night. Read on for all the details and enter to win a Samsung Galaxy Note8 Prize Pack or a $275 gift card!
Are holiday traditions important to you? I love to create unique traditions for my family based on my own childhood holiday memories. These traditions keep me focused on what's important and stop me from getting overwhelmed during hectic seasons. And the kids love knowing what fun activities to expect every year!
In the fall, it's all about picking pumpkins and roasting pumpkin seeds. In the winter, it's new pajamas, sugar cookies, wish lists, light displays, and playing National Lampoon's Christmas Vacation on repeat.
Whatever your traditions I'm sure you can check many of them off in one night with this Holiday Wish List Party! Find all the details (including an amazing giveaway!!) below.
Planning a Wish List Party
I started planning with stop by Target for inspiration and supplies. I grabbed handfuls of holiday toy catalogs from customer service, stickers and glitter from the dollar spot, and hot cocoa, candy canes and marshmallows from the holiday home department. And while there noticed they were already running black Friday worthy deals in the electronics department !
For a limited time only, receive a $300 Target GiftCard™ with Purchase and Activation of the Samsung Galaxy Note8, Galaxy S8 or Galaxy S8+ at Target! Valid 11/19/17-11/27/17 and 12/3/17-12/9/17 only. 
Chayce and I took advantage of this amazing limited time offer and picked up two new Samsung Galaxy S8s phones! It's easy to stay organized this holiday season using the Samsung Galaxy S8 and it's many incredible functions and features.  And the $300 Target GiftCard™ offer ain't bad either. So, stop by your local Target to get this deal before it's gone!!  Then, read on for your chance to win a Samsung Prize Pack or $275 gift card.
Wish List Party Decorations
If your house is already decorated for the holidays, you're good to go. But, if not don't worry about décor!
Simply put on some holiday music or play your family's favorite movie and let the supplies serve as decoration. A table piled high with craft supplies is fun and beautiful. Use ribbon, stamps, glitter, stickers, and whatever else you can round up.
Wish List Party Food and Drink
Set up a station with a large carafe of warm cocoa and toppings. Both kids and adults love having candy canes, whipped cream, marshmallows, and sprinkles to fancy up their cocoa.
Make or buy a few sweets to add to the fun. Check out the recipe for my kid's favorite sugar cookies, try my soft and chewy ginger cookies, buttery jam thumbprints or these delicious and easy 2 ingredient coconut macaroons.
Wish List Party Activities
Really, the name speaks for itself and making wish lists is the only activity you need. A pile of craft supplies and a stack of toy catalogs should keep littles busy for quite some time. So, give each child a pair of scissors, a glue stick, a piece of blank paper or a printable wish list and let their imagination soar!
Alternately, if you want more activities the sky's the limit! Set up multiple stations with different activities and turn this simple family night into a kid's holiday crafting extravaganza. You can have stations for sugar cookie decorating, wish list creating, holiday ornament crafting, gift wrapping and more.
We kept the kids entertained for hours with wish lists, cocoa and cookies.
Samsung Galaxy S8
While they were preoccupied with their crafting and cookie eating I was busy creating and checking items off my holiday to-do list with my new Samsung Galaxy S8.
So many useful apps come pre loaded! Apps that help me keep track of my busy schedule, organize get-togethers, make grocery lists, jot down recipes and entertaining ideas and more! The health app uses the Samsung Galaxy S8's  touch pad to monitor your heart rate, blood pressure, activity level and more! How's that for ensuring the holidays are stress free?
Even more useful, the enhanced camera makes taking, editing and storing my holiday photos a breeze and really makes my on-the-go foodie photos shine!
Chayce also loves smart, selfie-friendly camera because of the built in filters and editing capabilities. And she loves how easy it is to find and purchase items online using the intelligent Bixby app. Simply snap a photo using Bixby and Bixby scours the internet for purchase recommendations and similar items.
Okay, I LOVE Bixby Photo too! When the 'I wants' hit I simply snap a photo using Bixby and all those great gift ideas and purchase information are just a click away. Bixby even works to find home décor, wine and fashion!
Tips for Wish List Party Success
Keep it simple and let the supplies be the decoration
Combine multiple holiday traditions in one party.
Keep the food and beverages to a minimum and use store bought items if needed
Take it easy on yourself and realize that the main goal is spending time with your loved ones. Don't strive for perfection, just strive for fun!
Innovate and do bigger things easily with the Samsung Galaxy S8. Enter to win a Samsung Galaxy Note8 Prize Pack or $275 gift card below.
I hope that these tips inspire you to create time in your life for family, traditions, and fun!
This post was created in partnership with Samsung + Target. Find more #SamsungTargetTech inspiration here then enter to win the sweepstakes below! Thank you for supporting the brands that support me!
#samsungtargettech #Sweepstakes (11/21 to 1/2)
pin for later