Preparing for the holidays is so much fun with a Kid's Valentine's Making Party!
There is no sweeter way to show love to your friends and family than with hand crafted goodies and sweets eats. On a chilly afternoon last weekend we invited friends over to craft valentines and snack on yummy treats. The kids (and adults!) had so much fun and all left with plenty of handmade cards to spread love for days.
We only invited a couple guests but this party could easily be done on a larger scale with mailed invitations. Tiny Prints has many fun options like these Love to Party invitations.
Glitter paper and cardstock from Michaels were put on the crafting table along with stickers, tissue paper, doilies, cards and envelopes from Target Dollar Spot. There was also markers, washi tape, stamps, baking twine and glue sticks so that guests would be able to create anything imaginable. A cheap plastic tablecloth covered the table and afterwards everything was folded in it for easy cleanup.
Snacks and beverages were kept very simple. A pitcher of store bought pink lemonade with lemon slices and fresh raspberries was available for the kids and easily turned into an adult cocktail with a frosty bottle of vodka on the bar cart.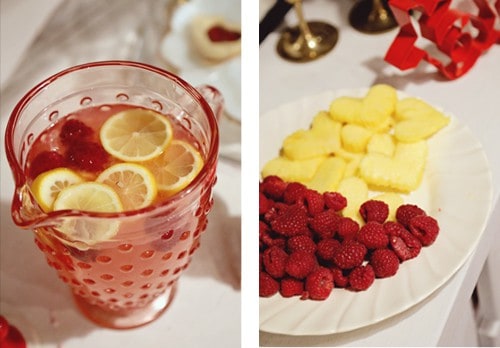 Pineapple was cut into heart shapes with a cookie cutter and set out with fresh berries.
Sugar cookie sandwiches filled with both raspberry cream and raspberry jam added an additional sweet touch.
A plate with a sugar cookie and a Jello pudding cup greeted each guest at the crafting table.
A love balloon (from Target!) and a simple bouquet of roses rounded out the party theme.
As soon as they arrived the kids grabbed a glass of lemonade and got to work.
It was amazing how many different valentines were created from the same supplies.
Kids come up with fabulous stuff when you allow their creativity to shine!
This party was so easy that it may become a yearly tradition. What things do you do to make the Valentine's holiday special and show love to your family?