Strawberry Shortcake with Sweet Biscuits is a super customizable summertime fresh fruit dessert.
Classic from scratch biscuit strawberry shortcake with lemony strawberry filling topped with a dollop of lightly sweet freshly whipped cream it's a reminder that the simple things are sometimes best.
As American as
Most likely because it falls during the end of strawberry season there's just something about Independence Day makes me crave good old strawberry shortcake. The good from scratch version with fresh juicy strawberries in their own lightly sweetened syrup , rustic shortcake biscuits and freshly whipped cream.
Simply Americana.
I grew up not really liking strawberry shortcake, or what I knew it to be. Store bought round spongy cakes with super sweet syrupy strawberries and canned whip cream. It was not until my step mom, Cheryl, first made me a delicious Bisquick drop biscuit shortcake that I fell in love with this dessert.
I only made Bisquick shortcakes from there on out. My oldest, Chayce, loved them so much when she was a toddler she lived on them for a year straight. She once fell asleep in her high chair, face down in a pile of strawberry shortcakes.
I no longer stock Bisquick in the house, so I have started making them completely from scratch by modifying my baking powder biscuit recipe to be slightly sweeter and a little sturdier to hold up to the strawberries and whip cream.
My version is also brightened with fresh lemon juice and zest in the strawberries, the shortcake biscuits AND the freshly whipped cream. I just love adding citrus to baked goods and pairing it with berries like these Strawberry Lemonade Hand Pies and this Lemon Curd Wild Strawberry Galette.
Ingredients
Strawberries – or substitute for other seasonal berries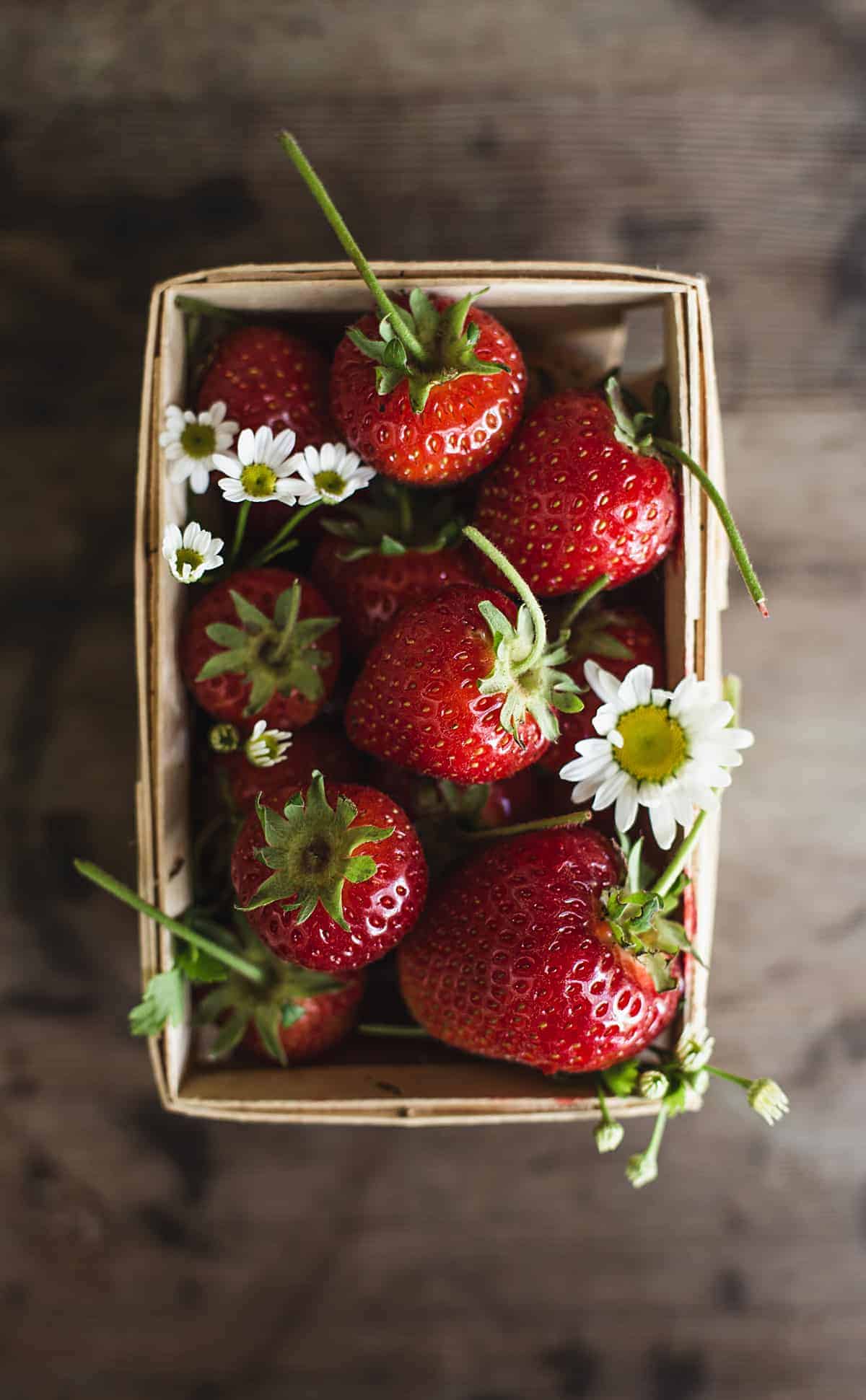 Lemon
Flour
Sugar
Baking powder
Salt
Butter
Heavy cream
Step by step instructions
Preheat oven to 450 degrees.
In a large bowl, whisk together the flour, baking powder, sugar and salt.
Cut the butter into little cubes and add to the dry ingredients.
Rub the butter into the flour with your fingertips until the mixture resembles dry sand.
Stir in the heavy cream.
Dough will be loose.
Dust a clean work surface with flour and turn the dough out onto it. Pat strawberry shortcake biscuit dough into a 1/2 inch thick rectangle.
Fold the dough in thirds like a business letter.
Pat the dough into a 1/2″ thick rectangle again and repeat the folding one more time.
Finally pat it out to a 3/4″ thick rectangle and use a cookie cutter to make the shortcakes.
I bought these super cute strawberry cookie cutters from Posh Little Designs awhile back because they were too cute to pass up. I used the large strawberry cutter to cut half the dough and a 3 inch round cutter for the other half.
Place shortcakes on ungreased baking sheet and bake 10-12 minutes until lightly browned.
While shortcakes are cooking, prepare the berry filling and the whipped cream. Add sugar, lemon zest and lemon juice to the berries.
Add sugar to the heavy whipping cream and beat. You can use a handheld mixer, stand mixer or whisk. I have even used a fork while camping with no problem. For the best results though, make sure your heavy cream, bowl and mixing utensils are super super cold.
After shortcakes have cooled, split in half and add some of the macerated berries.
Top with lemon whipped cream,
and more strawberries.
Enjoy!
Ingredients
Sweet Biscuits
2

cups

all purpose flour

1/2

cup

sugar

1

tablespoon

baking powder

1

teaspoon

salt

8

tablespoons

unsalted butter

(1 stick) cold, cut into cubes

1

cup

heavy cream
Berry Filling
2

cups

strawberries

1

tablespoon

lemon juice

1/2

teaspoon

lemon zest
Whipped Cream
2

cups

heavy cream

(1 pint)

1

tablespoon

sugar
Instructions
Preheat oven to 450 degrees Fahrenheit.

In a large bowl, whisk together the flour, baking powder, sugar and salt.

Rub cut butter into mixture with your fingertips until it resembles dry sand.

Gently stir the heavy cream into the flour mixture to make a loose dough.

Lightly dust a clean work surface with flour and turn the dough out onto it.

Pat the dough into a 1/2″ thick rectangle.

Fold the dough in thirds.

Pat into a 1/2″ thick rectangle and again fold in thirds.

Pat the dough into a 3/4″ thick rectangle, cut into shortcakes and transfer to baking sheet.

Press together the scraps of dough and cut into more cakes.

Bake until lightly browned, about 13 minutes.

Cool on a rack for 5 minutes before serving.

Meanwhile, prepare the filling by gently stirring berries with sugar and lemon juice.

Whip the chilled heavy cream and sugar together until lightly fluffy. Do not overbeat.

Assemble shortcakes with cake, berries and whipped cream.

Store leftover shortcakes at room temperature and refrigerate filling and whipped cream.
Video
Nutrition
Calories:
524
kcal
|
Carbohydrates:
39
g
|
Protein:
5
g
|
Fat:
40
g
|
Saturated Fat:
25
g
|
Trans Fat:
1
g
|
Cholesterol:
135
mg
|
Sodium:
292
mg
|
Potassium:
278
mg
|
Fiber:
1
g
|
Sugar:
14
g
|
Vitamin A:
1481
IU
|
Vitamin C:
20
mg
|
Calcium:
122
mg
|
Iron:
2
mg